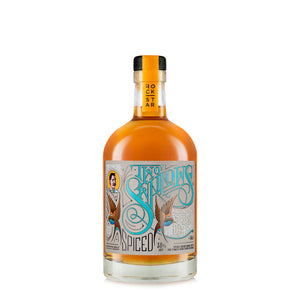 Rockstar Spirits
Two Swallows Citrus & Salted Caramel Spiced Rum 50cl
Sale price Price £23.50 Regular price Unit price / per
Tax included.
Thomas G Hurst has made Two Swallows as a tribute to his famous ancestor Captain Matthew Webb. The Naval Captain rose to global fame in 1875 when he became the first man to swim the English Channel. Webb died in 1883 when trying swim the whirlpool rapids at Niagara Falls. In Naval tradition it is said that if a sailor drowns then the Two Swallows in the tattoo will carry a sailors soul to Heaven.
RIP Captain Webb - "Nothing Great Is Easy".  Two Swallows is premium rum from Guyana flavoured with Candied Citrus & Salted Caramel distilled to 38% ABV.
Two Swallows takes the ingredients commonly seen in Colas and uses these as the key spicing notes that delivers a spirit where creamy sweet caramel is balanced by a pinch of rock salt along with candied lemon and orange peel, along with cooking spices and fiery ginger. 
Great on its own or with coke, lemonade or ginger beer with a twist of lime.
• ABV 38%
• 50cl
• Product of Guyana
Product Code: RSS-TS-CITRSC 
Your must be over 18 to purchase this product.